Alright, so the first yard sale I went to (I only had one I wanted to go to since I'm on foot) was a total bust. Nothing. I had brought my cheque with me so since I was near the bank, I went and dropped that off. I took a different route home, and I saw that the neighbours down the street (who are sadly muddling-up their foursquare) were having a yard sale. This is the first one I see them do, and it didn't look like they had much, but I popped over and saw a nice antique table & chairs.
I asked her how much, and she said 30$ for the set. I knew I was going to buy it, and I was just thinking about how I'd get it home (if I wanted to come back and pick it up with my Mom), and then the husband says 20$ and it's yours. So I said yes. And I decided I'd just walk it down the street right away.
What a steal! The set is in TERRIBLE condition, and it will take HOURS of labour/stripping/disassembling/patching/regluing to bring it back, but it's gorgeous.
Have a look!
The chairs are in the worst shape. One has been painted with one of those textured marble spray paints (ewwww). There's only 3 chairs, but they seem to closely match the table both in style, and the type/colour of the wood under the paint. I think it's birch with a dark stain. Birch is a beautiful wood.
What's fun about this table is that it's built very similar to another antique table that I am halfway done restoring. That table had been given to me by my great aunt (I think... It's my grandmother's sister) and it was in worst shape than this table since it was covered in about 10 layers of glossy oil paint, the top has been chopped down, one of the aprons is damaged, and one leaf is missing. But that one was free.
The table from my aunt has the same kind of "pocket screw" setup under the top, and hers had HAND FORGED leaf hinges(!) and old style wood screws (I can't remember if they were hand cut, flat tip screws or not). Either way it was a VERY old table. So I won't know until I take it apart, but this new table looks nearly as old. I'd guess at least 1880, perhaps even older, but definitely pre-1900.
It looks like most of the paint on this table will flake off easily, since it's separating from the shellac. I have no idea when I'll start working on it, since I have so many other projects, but for 20$ I couldn't pass it up.
For comparison, here was my aunt's table (as received):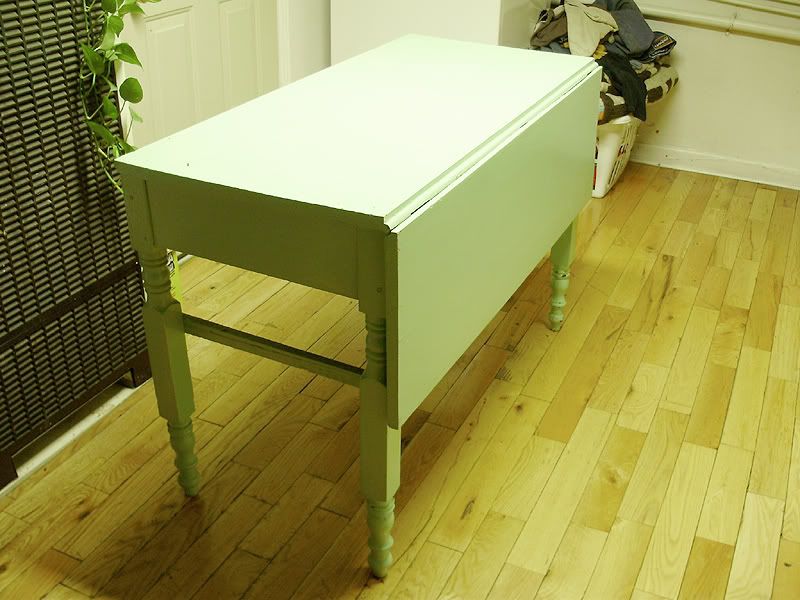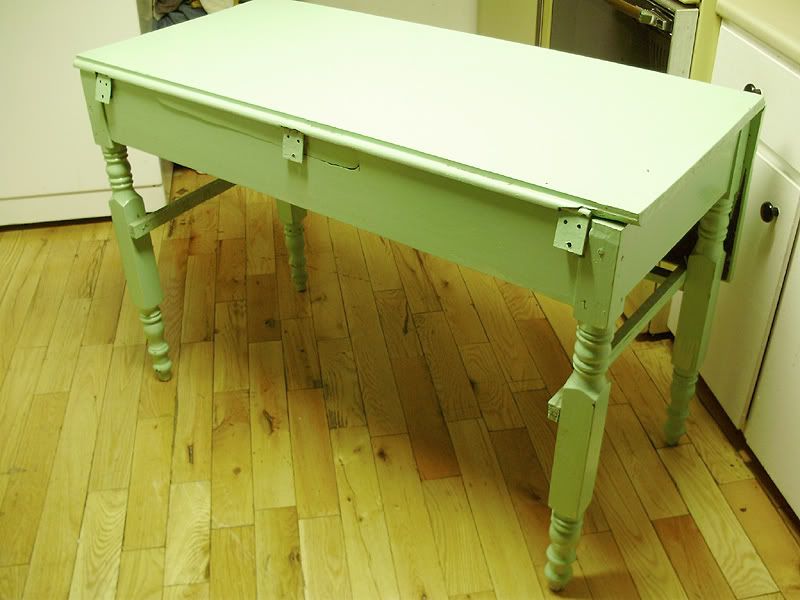 I also bought an antique mirror on Thursday after my dentist appointment. It's actually a twin to another mirror I already have, but I'll post about those later, since I have to go pick up this second mirror later (today/tomorrow). It was much too heavy to carry around.
***
I finished the attic door last weekend, but I was waiting for a day with nice natural sunlight to photograph it, so I did it just a while ago after I photographed the table set.
I like how it turned out. It looks like a traditional opening with mouldings, but it's recessed into the ceiling, which I prefer. I also like that the glossy/matte difference between the door and ceiling paint isn't really noticeable.
***
Since I just posted about work, I thought I would share a recent, and somewhat nice project we did for a client. This is a custom kitchen island on wheels. It has 6 drawers (full ext soft-close), and the two side panels open up to some narrow cabinets (like a spice cabinet with a few shelves). The back side has 3 panels. It is mostly made in MDF (which is why I said "somewhat nice" since I'd prefer solid wood doors/panels), and custom 1/4 fluted columns (wood). The finish is a sprayed-on opaque lacquer (that's fancy talk for: white coloured lacquer - we can have it tinted ANY colour). The top is curved on the ends, with a laminate top, and Corian edge (which we made at the shop). Don't ask the price, since I honestly haven't got a clue. I almost never see the invoices.
So yeah, that's the kind of stuff I make at work. The projects are not always this nice, but the quality is always there. This island was insanely heavy.
Also, as a side note, this was going in a gorgeous old house out of town. Look at that BEAUTIFUL floor!!! *envy*