I re-counted my spare turn key sockets and apparently I did have enough to do this fixture. The only problem is that both sockets are mismatched. The brands as well as the actual turn key knobs are different, but I decided to use them anyways, rather than spend more money for nothing. When the light was fully rewired, the knobs face opposite directions anyways, so you don't notice it at all. IF you want to hear all about the fixture's story, keep reading, otherwise skip ahead to the three stars below.
The fixture is pretty much a Frankenstein, too. I had originally bought it from eBay for VERY cheap (less than 30$ + ship). I got it for several reasons:
- price
- 2 shade fixtures are a nice size
- condition looked decent
- tons of extra chain
As you can see from this auction photo, the fixture hung down something like 64" with the shades. There's nowhere in my house that could possibly accommodate that, but I knew it would be handy to have all the extra chain links.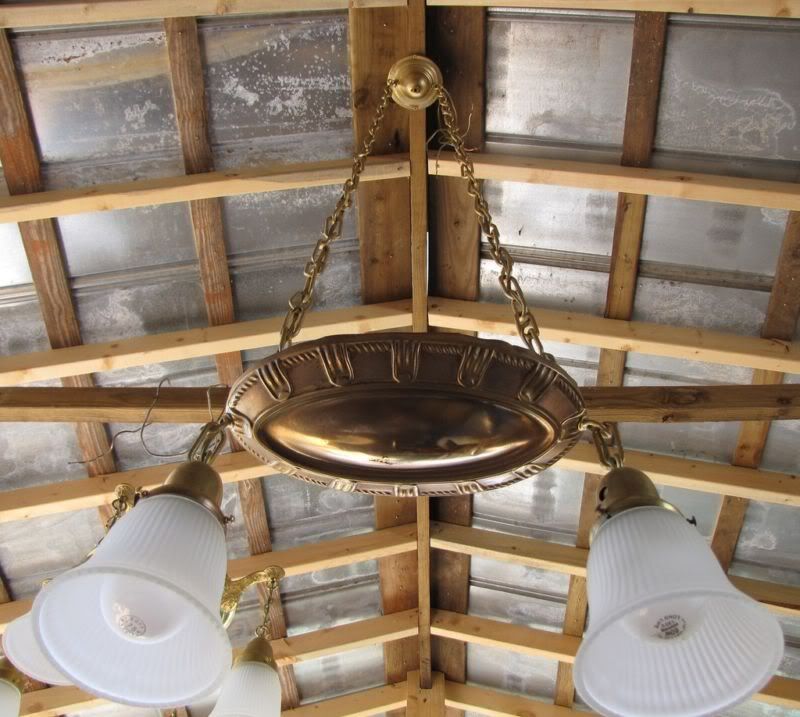 I was not too thrilled with the condition when it arrived, though. I had not noticed from the photos, that one of the shade holders hand been drilled straight through to use a push-through socket (which made the shade holder "ruined"), and the top canopy was also not the right style/vintage. The canopy on this fixture was the shallower style with surface-mount screw holes (hidden by the chains in the photo). It was also missing a decorative finial.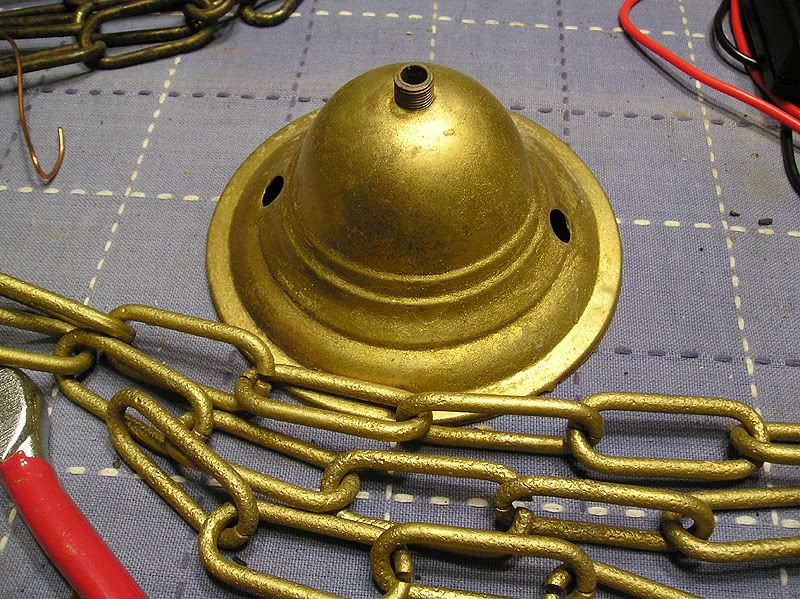 Later in the summer, I was able to find a spare antique canopy from a vintage lighting store, as well as a bunch of old sockets. I also won a set of 3 repro shade holders, which I talked about previously here: http://my1923foursquare.blogspot.com/2011/08/rant-and-bit-of-update.html
The canopy had to be drilled with 2 holes for the chain loops.
The shade holders were stripped of their factory-applied lacquer, then antiqued, and dulled to match the oval pan. Likewise, the canopy got the opposite treatment, and I had to polish it up a bit to get some of the brass to show through. To finish it off, I used a repro acorn finial (not the best, but easy to find), and rewired it using rayon covered wire.
***
Here is the finished fixture! I love how it looks. It hangs just ~4" over my head (I'm 6' tall). It's on a dimmer, so for the photos I had them on low to avoid just having it show as two huge glowing orbs. I've got 2 60w bulbs in there, which lights up the room perfectly. Task lighting for the vanity is provided by the sconces.